Read our Translation Blog
Get the latest fun and facts from the language industry with our blog!
Need advice on website translation and localization?
Browse our ONLINE SHOP for ebooks on how to translate a website!
LingoStar's Blog
Welcome to LingoStar's blog! On this page, you can find a lot of interesting and useful information about the translation industry. Explore topics on website translation and localization and how successful localization can influence your business to help your company grow and go global.
Language Blog Topics
On this blog, you can also learn about professional translators and interpreters, multilingual search engine optimization (SEO), the importance of socializing and networking and translators' professional ethics. Quite often we write posts about the languages of the world, other cultures, and their traditions. Not only do translators convert texts from a source language to a target language, but they also help people communicate with each other, help establish international contacts, and are often prominent figures in the social, economic, and political life. Lastly, of course, we want you to have fun, so on our blog, you can find many posts that will entertain you and, hopefully, make you smile!
We hope you enjoy our blog and discover a lot of interesting things!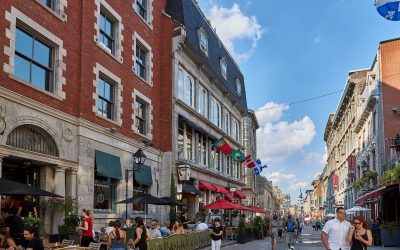 The French Community in British Columbia The French community in British Columbia continues to grow and diversify every year. British Columbia has the fourth largest Francophone community in Canada. According to Statistics Canada in 2016, French is the mother tongue of over 70,000 British Columbians. There are more than 300,000 residents of the province who speak French in addition to English or another language. Francophones have contributed to the economic growth, intellectual pursuits, and political and cultural development of British Columbia. Structures are in place to provide several services to Francophones living in the province or thinking of moving there. It is possible to study, work and stay informed in French, as well as to access social services and health care. Many organizations are working hard to expand the Francophone and Francophile presence in B.C. One is the British Columbia Francophone Federation, the official voice of the province's Francophone community. Their mission is to represent the Francophone community in British Columbia while preserving their linguistic and cultural heritage. Infographic: The strong French presence in British Columbia The Francophone community in B.C. is not only growing but also changing the overall Canadian population. This infographic will show you some interesting facts about the Francophonie in British Columbia: PDF Download The need for French translation services French is not only the mother tongue of many Canadians, but an integral part of the Canadian identity. If you want to successfully expand your business into the Canadian market, you need to understand the country's linguistic variations and adapt your business to the local look and feel. By working with a trusted translation agency that is familiar... read more
Translation Blog and News
LingoStar has been a language services provider in Canada, the USA, and Europe for more than a decade. We are proud to say that we cooperate with professional translators, interpreters, and other language specialists worldwide and work with over 100 language pairs. If you are looking for a reliable translation company, contact LingoStar! We are always ready to help you with your projects and documentation. Get a free quote online.
See All Blog Posts
Blog Topics
Multilingual Website Translation Guide – Click to Download Free Ebook