Read our Translation Blog
Get the latest fun and facts from the language industry with our blog!
Need advice on website translation and localization?
Browse our ONLINE SHOP for ebooks on how to translate a website!
LingoStar's Blog
Welcome to LingoStar's blog! On this page, you can find a lot of interesting and useful information about the translation industry. Explore topics on website translation and localization and how successful localization can influence your business to help your company grow and go global.
Language Blog Topics
On this blog, you can also learn about professional translators and interpreters, multilingual search engine optimization (SEO), the importance of socializing and networking and translators' professional ethics. Quite often we write posts about the languages of the world, other cultures, and their traditions. Not only do translators convert texts from a source language to a target language, but they also help people communicate with each other, help establish international contacts, and are often prominent figures in the social, economic, and political life. Lastly, of course, we want you to have fun, so on our blog, you can find many posts that will entertain you and, hopefully, make you smile!
We hope you enjoy our blog and discover a lot of interesting things!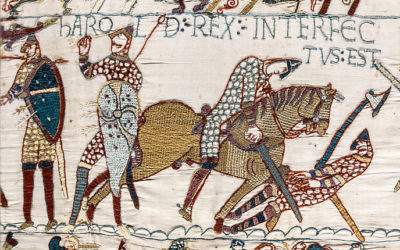 English is the product of many cultures and despite being of Germanic origin, an important part of English language etymology finds its source in the French language. In Twenty Years After – the sequel to The Three Musketeers by French novelist Alexandre Dumas – D'Artagnan said "English is little more than badly pronounced French". Several years later, George Clémenceau (early 20th century French PM) said the same. Is there any truth in their claim? To find out, we need to go back in time and look at English language etymology in its historical context. But first, here are a few useful definitions. English Language Etymology: Definitions Cognates Cognates are words that share a common ancestry. True cognates might not be instantly recognizable; they only share the same etymology. But they can also have the same spelling and meaning, or they can be loanwords or calques. They can be close cognates (same meaning but slight variation in spelling) and even false cognates (or "false friends" – same spelling but different meaning). For example: True cognates: to attest < attester, from Latin ad-testari, curfew < couvre-feu, from the Old French cuevrefeu (used in the Middle Ages when fires had to be covered and people had to be home and off the streets by a certain time), coward < couard, Old French.Close cognates: analytique > analytical, créatif > creative, banque > bank.False friends: magasin (FR) = shop (EN) not magazine (publication), douche (FR) = shower (EN) not douche (EN) (medical term or type of person), bras (FR) = arm (EN) not bra (EN) (undergarment). Read more about the etymology of words between... read more
Translation Blog and News
LingoStar has been a language services provider in Canada, the USA, and Europe for more than a decade. We are proud to say that we cooperate with professional translators, interpreters, and other language specialists worldwide and work with over 100 language pairs. If you are looking for a reliable translation company, contact LingoStar! We are always ready to help you with your projects and documentation. Get a free quote online.