Read our Translation Blog
Get the latest fun and facts from the language industry with our blog!
Need advice on website translation and localization?
Browse our ONLINE SHOP for ebooks on how to translate a website!
LingoStar's Blog
Welcome to LingoStar's blog! On this page, you can find a lot of interesting and useful information about the translation industry. Explore topics on website translation and localization and how successful localization can influence your business to help your company grow and go global.
Language Blog Topics
On this blog, you can also learn about professional translators and interpreters, multilingual search engine optimization (SEO), the importance of socializing and networking and translators' professional ethics. Quite often we write posts about the languages of the world, other cultures, and their traditions. Not only do translators convert texts from a source language to a target language, but they also help people communicate with each other, help establish international contacts, and are often prominent figures in the social, economic, and political life. Lastly, of course, we want you to have fun, so on our blog, you can find many posts that will entertain you and, hopefully, make you smile!
We hope you enjoy our blog and discover a lot of interesting things!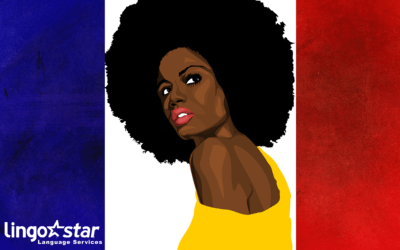 The problems women of colour face in France… France is a country rich in cultural diversity, partly shaped by its immigration. In this article, we shine the spotlight on women of colour in France, the problems they face and their struggle. It will allow you to understand why, increasingly, women of colour are leading the fight against racism in France. Women of colour in France, and around the globe, are victims of both sexism and racism. In society, on social media, at work… Being different is stigmatized when it should be seen as something positive… A study published by France Stratégie (an institution planning the social, economic, environmental and cultural development of France) has shown that, in France, men have more working opportunities than women. And among all these men, Caucasian men have more opportunities than the others. So what about women of colour? Mentalities might be evolving but, unfortunately, racial and gender discrimination in the world of work is still deeply rooted. An example of discrimination against women of colour at work The French website Abenafrica contains numerous stories testifying to this sad reality. A 23-year-old woman from Martinique – a French overseas territory – explained that she had a team meeting at work. She entered the room and was about to close the door. Her boss said "Oh no, please, don't close the door! It's really hot today, just like in your country!" Her name is Émilie. She was born in Paris. France IS her home country. This is just one of the many examples witnessing the discrimination women and people of colour face every day. And... read more
Translation Blog and News
LingoStar has been a language services provider in Canada, the USA, and Europe for more than a decade. We are proud to say that we cooperate with professional translators, interpreters, and other language specialists worldwide and work with over 100 language pairs. If you are looking for a reliable translation company, contact LingoStar! We are always ready to help you with your projects and documentation. Get a free quote online.