Selfies
Everyone has taken at least one in their life. Young people, especially, love to take a lot of selfies. They are popular, and a fast and easy way to share moments with your friends. You take a selfie and can send it within seconds to your partner, best friend, or parents, or share it on Snapchat, Instagram or Facebook.
Have you ever wondered which city takes the most selfies? Most people would assume a North American city, since there are so many locations perfect for selfie – taking (think New York, San Francisco or Hollywood…).
Which city takes the most selfies?
Well, they would be surprised to hear it isn't an American or Canadian city, but Makati City in the Philippines! In any given week, the residents of Makati take 258 selfies per 100,000 people. They are followed by Manhattan, N.Y. with 202 selfies.
Makati City is where politics, showbiz and nightlife meet, and since this is one of the biggest business districts in the greater Metro Manila area, a lot of selfies are taken there. The Philippines want to show their status because they are proud of themselves, what they do, and of their country as well. They are working their way out of poverty and to show their success, they take a lot of selfies!
What about Canadian cities?
Well, Canadians do take selfies, but way less than the Philippines.
Check out the chart below!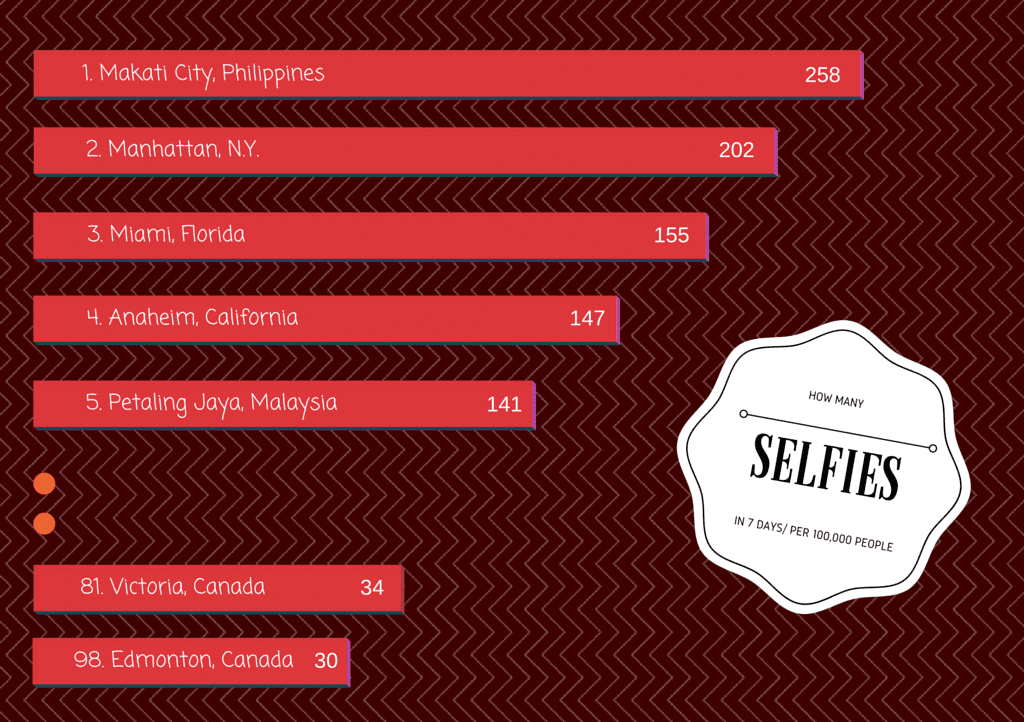 Here at LingoStar, we have professional translators who are native speakers of Tagalog. We also have a range of other services to offer such as revising, updating and localizing your content into more than 100 languages. And if you ever wish to improve your language skills to have better job opportunities, we also provide language tutoring services! Don't hesitate to give us a call at 604-553-4520 or email us at info@lingo-star.com to discuss your next language-related project. To get a free quote, click here. We look forward to hearing from you!