How language affects online user behaviour
Translating your website has never made so much sense and here's why. Did you know that:
90% of online buyers will ignore what you have to offer or say if it's not in their native language?
Most internet users don't speak native English?
English speakers only make up 25% of internet users?
2020 has seen the online world grow exponentially and with Chinese, Spanish, Arabic, Hindi, Portuguese, Indonesian, Malaysian, French, Japanese, Russian and German in the top 15 most popular languages online, can you really afford not having a multilingual marketing strategy?
Translation is all around us
We all benefit from translation in one way or another, we just sometimes don't realize quite how much we do.
Take booking holidays or event tickets for example. We all love to travel but would you risk booking your next holiday destination if you didn't understand the description or couldn't compare different trips?
What about playing the latest video games, or binging on the latest trending series? Not nearly half as enjoyable without the required dubbing or subtitles! But it doesn't stop there.
From being able to read food labels to ensure you can make the right choices to suit your own diet requirements to sourcing reliable personal protective equipment, or helping people access critical health information in a language they understand… The list is endless.
From entertainment to culture, healthcare to food & drinks, right across the spectrum. These industry sectors could not reach their audiences the way they do without translation.
The truth is that translation helps us stay healthy, keeps us safe, informed and entertained, and enables us to make informed decisions in our daily lives. Without it, the world would not only be smaller and poorer but also even more unequal, where only a select few would have access to knowledge and goods.
You may be thinking translation is too complicated, or too slow or too expensive, but don't let these myths prevent you from embracing quality translation.
Translation drives engagement and quality content creates trust.
If you want to share your products or services – or simply your story – with a worldwide audience, we can help you. Take your first step towards translating your website content and we will help you close the language gap and go global!
How you can now easily translate your website
Over the past 16 years, we have completed countless multilingual projects for our clients. So we thought it was about time we shared some of our expertise with the world. We recently launched a brand new series of ebooks and guides on localization and multilingual website translation.
This series is the fruit of more than 6 months of intensive research and work from everyone here at LingoStar.
Our 120-page ebook A Beginner's Guide to Multilingual Website Translation is full of practical advice and includes worksheets to take you through the localization process step-by-step. More specifically, it's designed for individuals and small businesses that want to share their story, build a strong online presence and ultimately expand their business internationally. Get the lowdown on our ebook in just over one minute in our video presentation!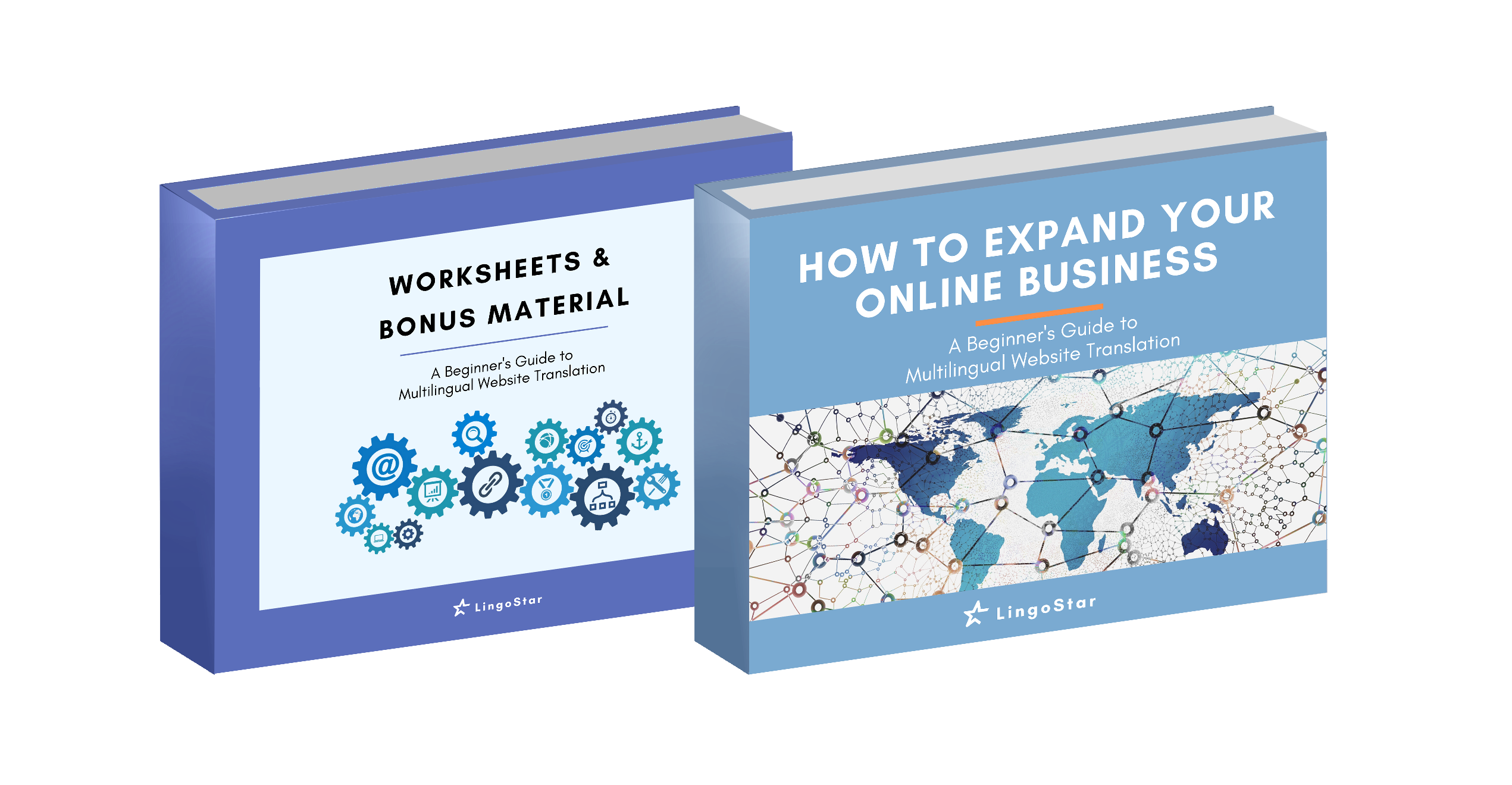 Our 14 short guides all focus on different languages. They will help you professionally localize your website for that specific target market. They're available for Vietnamese, Bengali, European Spanish, German, English & French (Canada), Italian, English (USA), English (UK), Dutch, Spanish (Argentina), Mandarin Chinese, European French, Japanese and India (Punjabi, Malaylam & Hindi).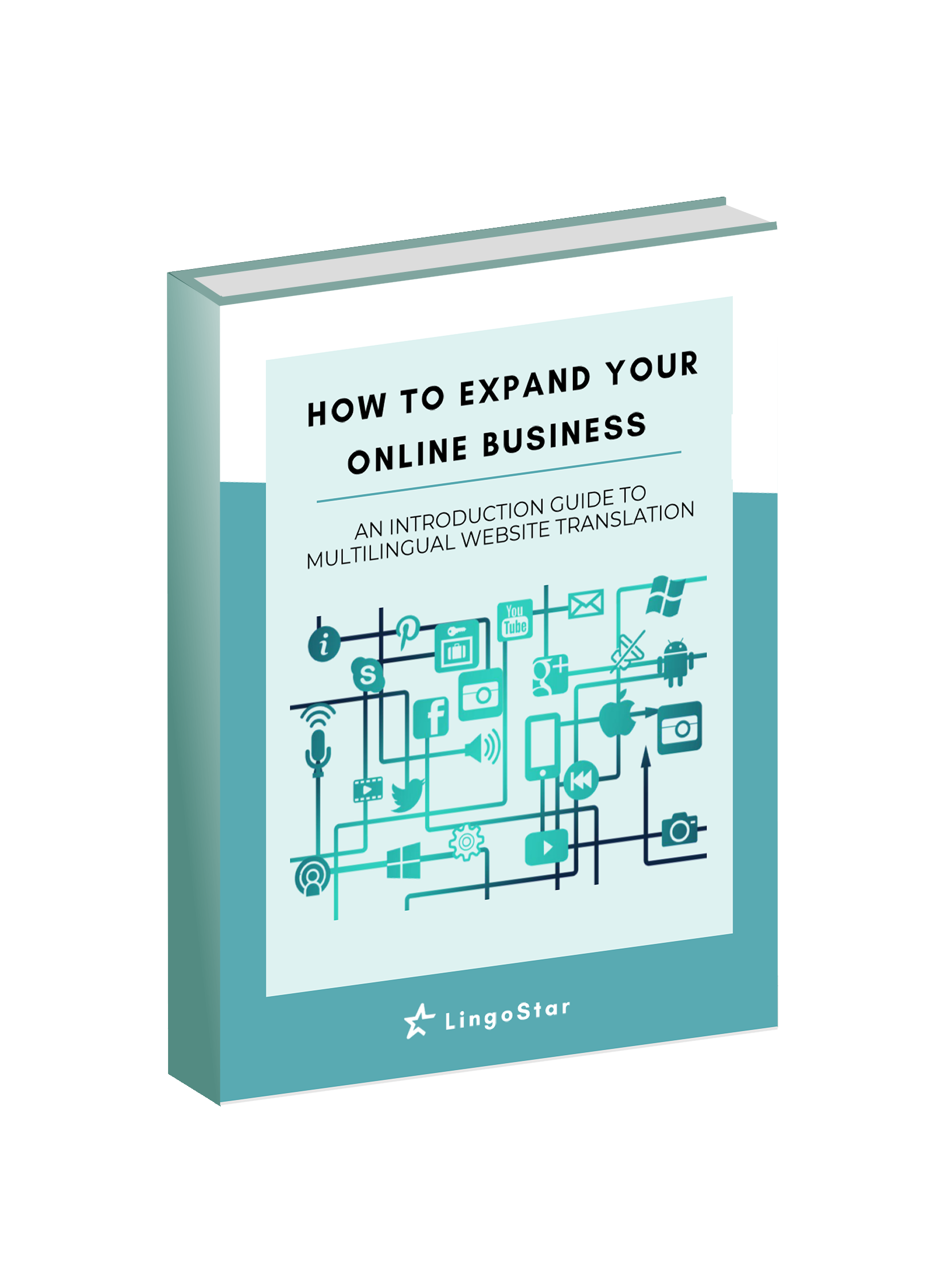 Still not sure?
Get a taster to whet your appetite! Our Introduction Guide to Multilingual Website Translation is completely free and is a great first insight into how to translate your website and expand your online business. It will give you pointers and useful ideas on how to adapt your website for global audiences.
Website Translation Free E-book
Your Blog in Foreign Languages
You can also check out our video and previous blog post setting out 5 simple steps to write and publish a foreign language blog post in 24 hours!
So, whether it's your entire website or just an article, you really have no excuses now!
LingoStar can help you translate your website professionally
If you have any questions or need any help with translating your website content from English into any foreign languages or vice versa, don't hesitate to contact us at LingoStar Language Services.
A good, professional and qualified translator is worth his weight in gold. And we're not just saying this because we're translators! Take a look at the large variety of translation services we offer.
We'd love to hear from you and we value your feedback! Good luck with your multilingual website translation project!
Subscribe to our newsletter for updates and promotional offers!