At LingoStar, we aim to broaden our comprehension of the world by using our knowledge of languages and cultures. We believe that translation is the key to understanding each other better and thus, to bring people from all around the world closer together. This is why we offer a wide range of services in a multitude of languages. We could go on and on about what kind of services we provide and why we are the right company for your translation needs, but we'll let our Lingostar Language Services Projects speak for themselves.
Minority and extinct languages we have worked with
Inuktitut Translation
Did you know that Inuktitut is one of the minority languages in Canada? It is one of the main Inuit languages and is spoken by 39,475 natives.

"In Canada, the word Inuktitut is routinely used to refer to all Canadian variants of the Inuit traditional language, and it is under that name that it is recognised as one of the official languages of Nunavut and the Northwest."

"Inuktitut comes from inuk "person" and -titut "like" or "in the manner of". Many Inuit live in the northern regions of Canada, for the most part, along the Arctic coast. Inuit Nunangat in Inuktitut means "lands, waters, and ices of the [Inuit] people". Inuit Nunangat is composed of the Northwest Territories and Yukon (Inuvialuit), Nunavut, Northern Quebec (Nunavik), and the northeastern coast of Newfoundland and Labrador (Nunatsiavut).
Latin Translation
In regards to other rarely used languages, we also translate into Latin. Even though Latin is an extinct language, the film industry manages to bring it back to life for our greatest entertainment! Why would the film industry need Latin, you ask? Well, one of the best examples is when it comes to magic: Latin is often used for spells. "Abracadabra"!
LingoStar has worked on projects from various industry fields
Translation for Various Industry Fields
Defence and Security Translation
Defence and Security are not subjects to be taken lightly. In fact, only a meticulous and flawless translation can apply here. And we are proud to say that we succeeded in providing it!
Film Industry Translation
Working on a project for the Media/TV/Film industry often requires several services. We are usually asked to both translate and record short phrases for actor pronunciation training. Translation is the first step on the road to mastering a few phrases in another language. An actor usually needs a phonetic explanation, as well as a voice recording from a professional to try and sound like a native speaker!
We also create or review multilingual subtitles and adjust timing of the subtitles.
Check out our blog post on how to handle multilingual subtitles in YouTube >>
Specialized Translators
For each of our projects, we assign the task to the best specialized translator. Two translators may be able to work with the same language, but they may have different specializations. Indeed, a translation for educational purposes does not require the same terminology as a translation for a business meeting. It is by paying attention to this kind of detail that we can produce the best service adapted to our client needs.
Lingostar Language Services Projects help you go global and reach multilingual communities
Spanish Language Varieties
At LingoStar, we are very well aware of how culture, languages, space, and time correlate. One cannot simply say "I need a Spanish translation". As a matter of fact, there are ten different Spanish dialects! In Spain, most people speak Castilian or Andalusian, whereas, on the American continent, people speak Latin Amerian Spanish or Rioplatense Spanish. Knowing the differences between languages and cultures enables us to select the most pertinent translator to take care of a project.
Localized Translations
It is a well-known fact that globalization is happening now more than ever, and we understand and recognize the need for people to get out of their shells and reach out beyond their own borders. Whether it is on a personal or professional level, we need to open up to the world. And, to do this, we need to open up to languages and cultures. At Lingostar, we want to help you achieve this. One of our dearest Lingostar Language Services Projects is our line of Localization Guides for Multilingual Website Translation.
How LingoStar can help you – Lingostar Language Services Projects
If you have a project close to your heart and you want a high-quality translation, we are here for you. Call us today on 604-629-8420 or send us an email at info@lingo-star.com for more information. Alternatively, you can request a free quote on our website.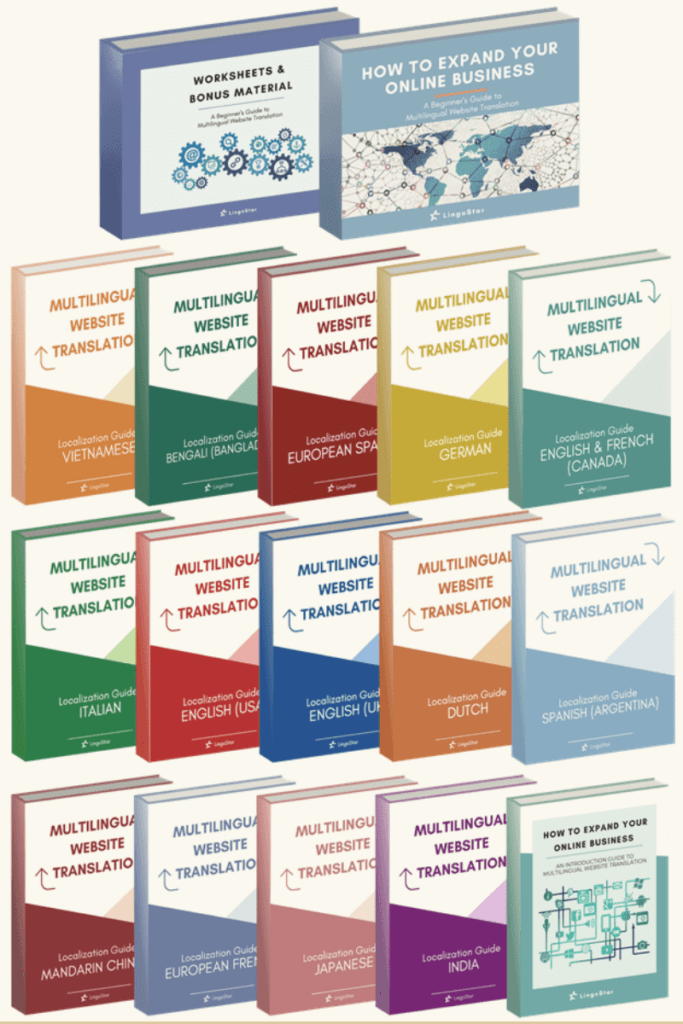 Subscribe to our monthly Newsletter for language updates!