In our last blog post, we talked about the Spanish language, which is spoken all over the globe. This time, we are focusing on the culture associated with it. In this blog post, we set out some of the most popular traditions of Hispanic culture.
About the word "Hispanic" and Hispanic culture
We use the term Hispanic when referring to people who originate, either directly or through their ancestors, from a predominantly Spanish-speaking country, especially from Spain or a Latin American country.
The Catholic religion
It goes without saying that Hispanic culture is closely related to the Catholic religion.
Take Argentina for example. Jesuit missionaries from Spain introduced Catholicism in Argentina in the 17th century. Since then, the Catholic Church has had a significant influence on Argentina's history, as well as on the ruling class in the country.
There are regional differences in the practice and degree of religiosity in Argentina. The capital of Argentina is Buenos Aires. People consider it to be the most secularized region of the country. On the other hand, the provinces of Jujuy, Salta and Tucumán often show a strong sense of religious devotion. One of the biggest religious assemblies in Argentina is Señor y Virgen del Milagro (in English, the Lord and Virgin of the Miracle). People usually celebrate it in Salta. The event contains a large procession of people who walk, bike or ride on horseback from their farmlands and desert towns into the province.
It's also recognizable in a great number of movies or TV shows that include a Hispanic or Latin individual. They tend to carry the rosario (a beaded necklace with a cross on it) and often pray.
Reggaeton, bachata, tango, and so much more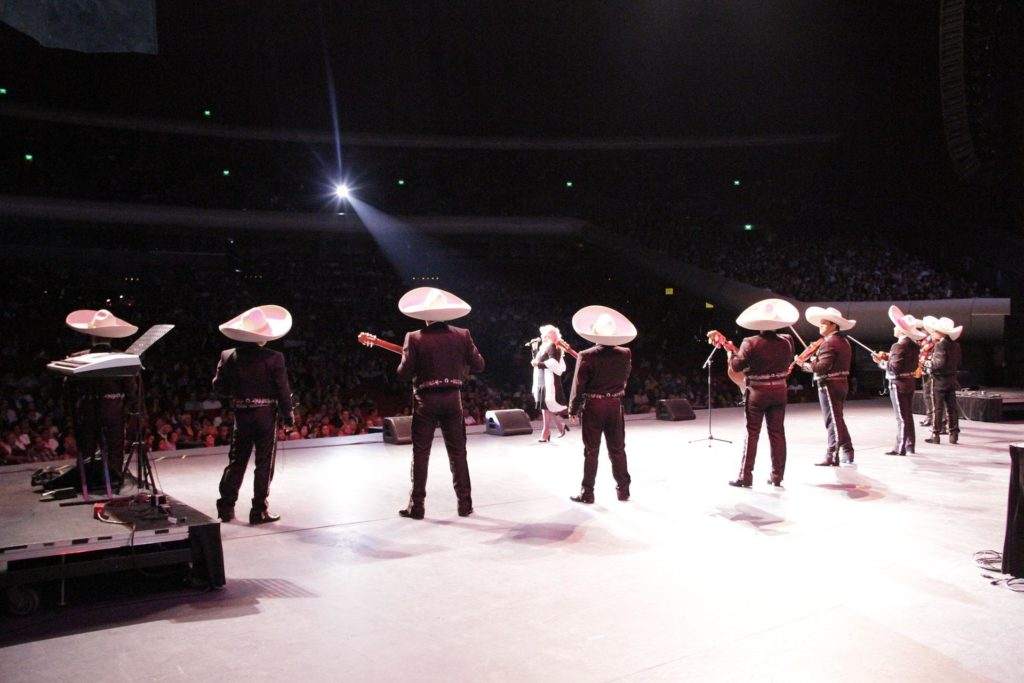 Music is another remarkable element of Hispanic culture. One example of Hispanic music is the Mariachi. This musical genre emerged in the late 18th-beginning of the 19th century in west-central Mexico. The Mariachi has continued to be an important part of social celebrations in the lives of Mexican people. The meaning behind this genre relates to the old Mexican society. Young people of the opposite sex were kept separated and the serenata was used as a method of communication between men and young women. The serenatas are songs in which love is the main topic. When playing Mariachi music, musicians wear a three-piece suit, boots, and usually custom-embroidered ties, belts, and buttons, as well as a wide-brimmed sombrero.
Another example is Flamenco. This is an important cultural part of southern Spain. The roots of flamenco probably lie in the Roma migration from Rajasthan (in northwest India) to Spain between the 9th and 14th centuries. These migrants brought with them musical instruments, such as tambourines, bells, wooden castanets, and an extensive repertoire of songs and dances.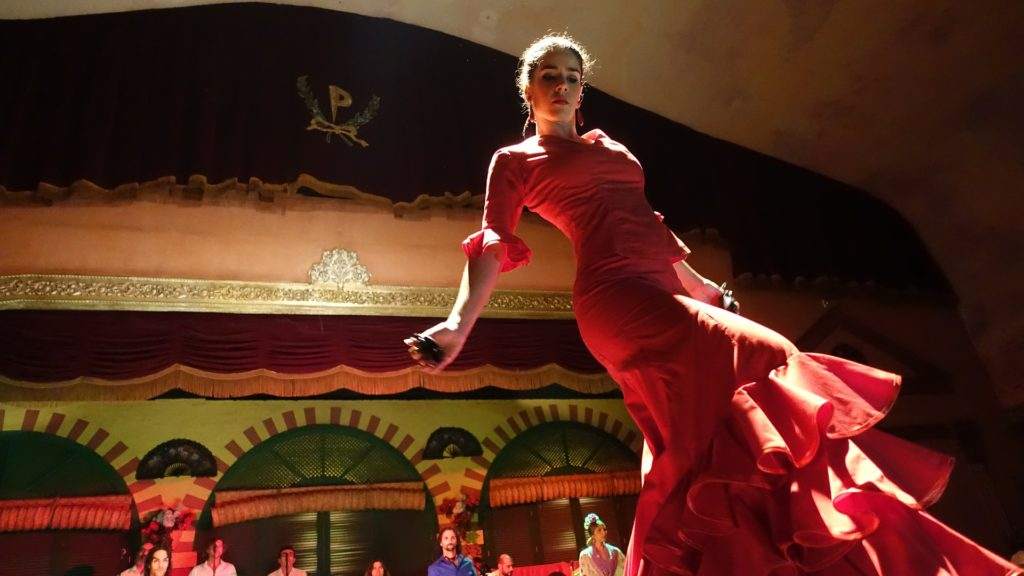 Connection to Spanish translation
We haven't yet spoken about the linguistic aspects of the Spanish language in this article. So, what links Hispanic culture, religion, and other traditions to Spanish translation? Well, when you study translation, one of the main aspects you learn is the importance of a language's cultural background. Every language is built on social and cultural traditions. Idiomatic expressions have a connection to each language, which has its roots in how a particular society functions.
For example, in Spanish, there's the expression meter el dedo en la llaga. Depending on the context, it refers to pointing out specific weaknesses. The meaning of this expression has its roots in religion. When Jesus resurrected after dying on the Cross, St. Thomas didn't believe the apostles when they announced his resurrection. Due to his disbelief, he touched the wounds that remained on the body of Christ after suffering a real calvary. It wasn't until then that he was convinced that Jesus of Nazareth was indeed in front of his eyes. The equivalent of this expression in English would be "to twist/turn the knife (in the wound)" or "to hit/touch a raw nerve".
LingoStar Spanish translation services and Hispanic culture adaptation
At LingoStar Translation Services, our Spanish translators are professionally trained to recognize cultural nuances and to adapt your Spanish translations accordingly. We regularly provide document translation and interpreting from English into Spanish and Spanish into English. Thanks to a well-established network of top Spanish translators and linguists, we are serving all major cities in Canada: Toronto, Ottawa, Montreal, and Vancouver. We offer Spanish document translation, English to Spanish website localization, and Spanish interpreting services. Additionally, we offer Spanish editing, typesetting, and video game localization and voiceovers by native experienced Spanish professionals.
Our native Spanish translators are experts in the cultural background of the Spanish language. Therefore, they can localize websites or documents for different Spanish-speaking countries, e.g. Spain, Mexico or Spanish speakers in the USA. We can work in many Spanish regional varieties and dialects.
Furthermore, we also offer certified Spanish translations for driving licenses, divorce decrees, birth and marriage certificates, legal documents, transcripts, diplomas and any other kind of certified Spanish document translations.
About European Spanish multilingual website translation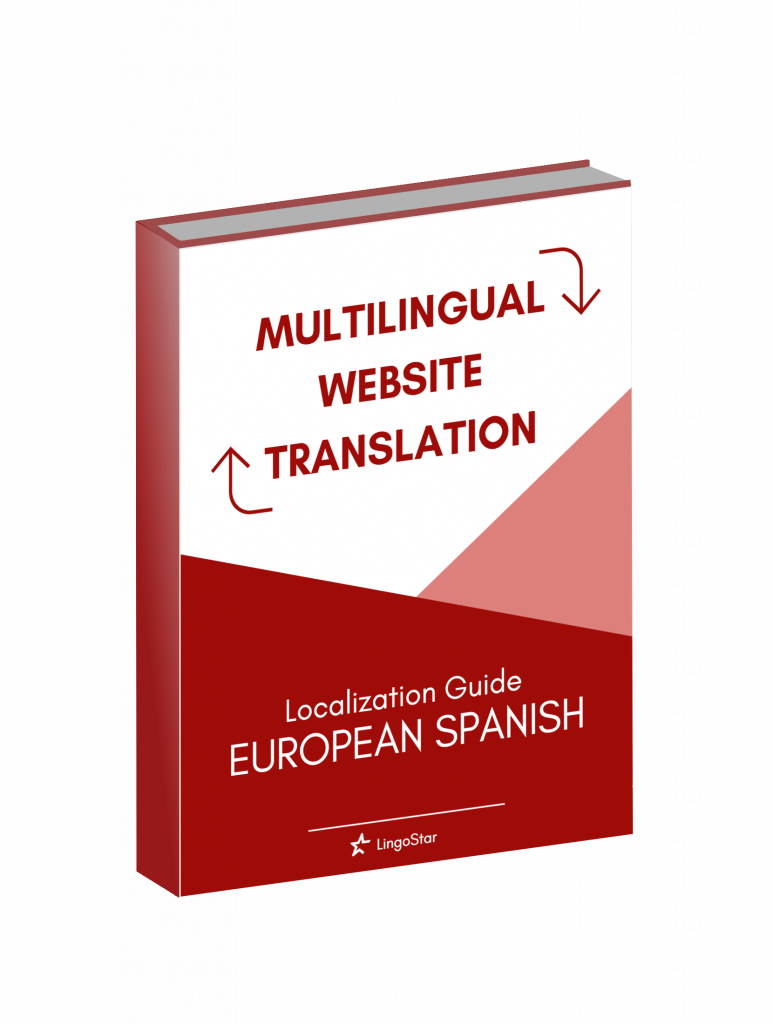 Check out our ebook Localization Guide for European Spanish. You will learn how to adapt your website for the Spanish market. Moreover, not only will you get practical advice on how to professionally localize your website into the European Spanish language, but also how to successfully expand your business internationally!
About Argentina and Hispanic culture through Spanish multilingual website translation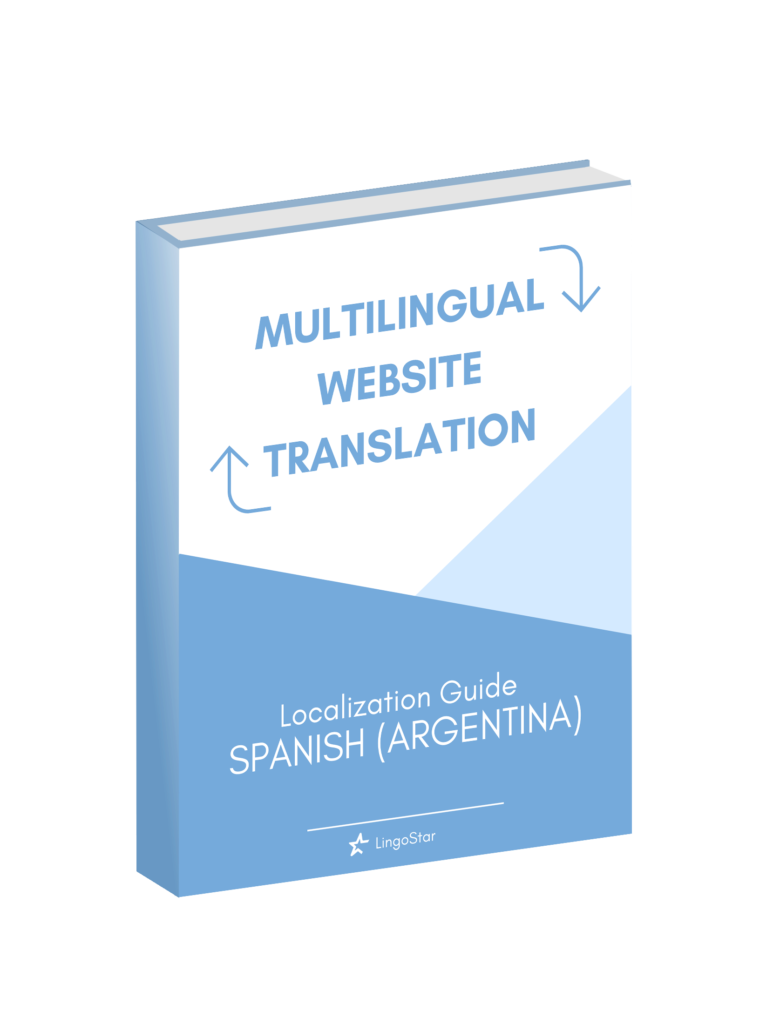 Check out our ebook Localization Guide for Argentine Spanish – Multilingual Website Translation. You will learn how to translate your website into Argentine Spanish. Learn how to successfully expand your business in Argentina and other Latin American countries!
If you are in need of a translation or recording, LingoStar is here for you! Please request a free translation quote. You can also email us at info@lingo-star.com. We'll be happy to help you with your translation.
Last, but not least, don't forget to subscribe to our newsletter at the bottom of our website for news and information about what's going on in the world of translation!