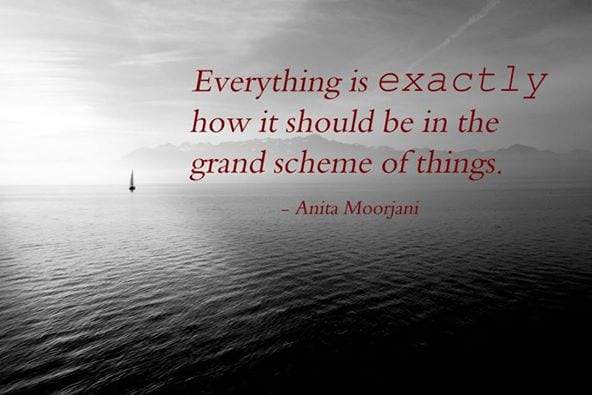 Every single person on this planet, in every single corner of this beautiful world, is an important part of something big and wonderful. Therefore, what happens in our lives and in the life of humanity is not just something random. It is supposed to be exactly like this. And all of us can make a contribution to make this world even better. So, let's share this beautiful idea with as many people as possible! Help LingoStar translate today's positive message or proofread the existing translations. Don't hesitate to contact us and send us your quote translation. We are looking forward to hearing from you!
Original Quote in English:
Everything is exactly how it should be in the grand scheme of things. (by Anita Moorjani)
Quote Translation into Czech:
Vše je přesně tak, jak má být ve velkolepé souhře záměrů. (citát Anita Moorjani)
Quote Translation into Japanese:
全ての事は、壮大な世界や人生の中でそうあるべきようになっている。(By アニータ・モージャニ)
Translation into French:
Tout est exactement comme il doit être dans le grand schéma des choses. (de Anita Moorjani)
Translation into Russian :
Все именно так, как и должно быть в общем порядке вещей. (Цитата Аниты Мурджани.)
Translation into Slovak :
Všetko je zariadené tak, ako má byť vo veľkolepej súhre zámerov. (citát Anita Moorjani)
Translation into Ukrainian :
Все саме так, як має бути у загальному порядку речей. (Цитата Аніти Мурджані.)
Translation into Italian:
Tutto è esattamente come deve essere nel grande schema delle cose. (di Anita Moorjani)
Here at LingoStar, we have qualified translators in many different fields of specialization. They are not only proficient in different languages, but also concentrate on different cultures and specific dialects. They provide their expertise and education in their native languages to satisfy your multilingual needs. If you would like us to assist with any questions, do not hesitate to ask for a free quote today! It is our pleasure to provide high-quality language services to our clients.
Photo by Hugo Kerr