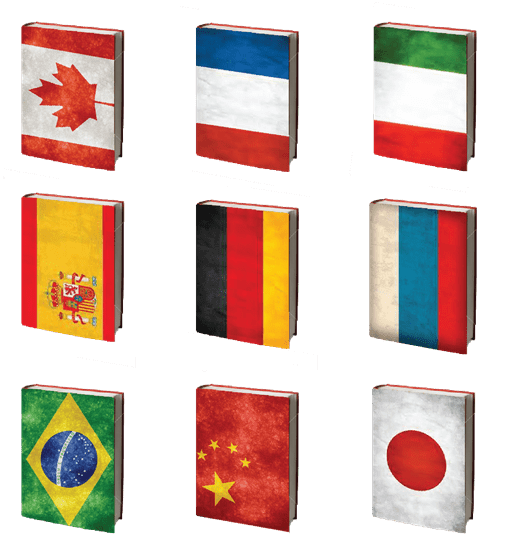 LingoStar Manual and Catalog Translation Services
Have you been looking for a company with years of experience in manual and catalog translation? You are on the right track!
Globalization with Manual and Catalog Translation
Manual and catalog translation is fundamental to the international success of your company. You cannot rely on specific markets outside of North America to understand English. In addition, in Canada, you are required to have documents in both French and English.
Furthermore, it is vital to have experienced translators completing the work, as the translation must convey the right message and be correct and consistent. Inaccurate translations can inhibit sales and cause safety concerns. Even the smallest errors can result in confusion and misunderstandings, putting your business at risk. For example, if you are sending a technical manual to a client in Hong Kong, it is simply unacceptable not to have your English manual translated accurately into Traditional Chinese beforehand.
Choosing a Qualified Translator for Your Manual or Technical Document
Poor quality translations can not only cause a decline in sales, but it can also pose major safety concerns. This is why it is absolutely necessary for you to reach out to professional, native-speaking human translators. Indeed, doing so will prevent placing your business in a potentially compromising situation.
This is especially important if you are in the technical/mechanical engineering or medical fields. Mistranslations in these fields can lead to dangerous outcomes and can be the difference between life and death. For example, picture a construction worker in Ottawa trying to use a piece of dangerous equipment with poorly translated instructions in Canadian French. This could lead to a very unfavourable outcome.
Hence, finding a qualified translator will not only help you avoid such a situation, but will also give your brand or product a much better chance at thriving and appealing to your audience as it is exposed to multiple cultures and languages worldwide.
We Have Years of Flawless Translation Experience
LingoStar had been carrying out manual, instruction, user guide and handbook translation services for years, in over 100 languages. We pride ourselves on the outstanding quality we consistently achieve for our clients. Some of our most common requests include the translation of technical manuals to Canadian French, Spanish, Chinese, Japanese and Korean in Vancouver, Toronto and Ottawa. However, our services cover the translation of any type of manuals for any target audience, and we have vast experience with a wide array of supports.
At LingoStar, we have a pricing system in place that ensures you will get a special discounted rate on your translation dependent on the volume of your documents. The higher the number of words, the greater the discount! It is not uncommon for our services to be discounted upwards of 20-30% to ensure that you are receiving a fair and competitive price, while still receiving the best translation quality in the entire industry.
We have extensive experience handling the translation of manuals and other technical guides for large corporations, top universities and non-profit organizations around the world by providing fair rates and an unmatched level of quality.
We have translated many technical documents over the years, ranging from Mexican Spanish for clients in Mexico, to German for clients in Europe.
Here are few examples of companies we have completed manual translations for: 
Pathfinder International
Pathfinder International is a non-profit agency and global leader in sexual and reproductive health education and advocacy around the world. Since 1957, Pathfinder has placed health care as a fundamental human right everyone deserves, regardless of location, wealth and status. When they needed medical manuals translated to African French, they came to us for help and we were happy oblige. Contracting the best translators and editors in English to Standard-International French with expertise in medical/pharmaceutical translation, we completed the translation of extensive medical manuals in record time. The documents were reviewed by their on-site medical staff and came back with positive feedback and only minor adjustments. We were proud to be a part of this collaboration!
Sight Enhancement Systems
Sight Enhancement Systems is an innovative company that designs and manufactures assistive devices for the visually impaired. Based in Waterloo, Ontario, they work closely with the University of Waterloo Centre for Sight Enhancement to develop and engineer products that are effective in assisting individuals with vision loss. One of their products is the Flick Camera, a portable multifunction camera that connects to both Windows and Mac operating systems and a variety of devices and allows the user to operate it using a touch screen, keyboard or mouse. We helped with the translation of the Flick Camera user manual to French for a Canadian market.
FLSmidth Knelson
FLSmidth Knelson provides a full range of gravity solutions for the gold mining and mineral processing industry. Founded by Byron Knelson 30 years ago and now under ownership of by FLSmidth, Knelson is a leading innovator in mineral processing equipment and a true Canadian success story. Today, the Knelson™ Concentrator is used in gold mining expeditions around the world. One of such places is Finland and so we were enlisted to help with the translation of a technical user manual into Finnish.
Our manual and catalog translation services include:
Safety manuals
Construction manuals
Product manuals
User guides
Software manuals
Technical instructions
Operation manuals
Handbooks
Human resources manuals
Corporate manuals
Medical devices manuals
Appliance manuals
Engineering specifications
Training manuals
Marketing manuals
Sales guides
Our employees and translators are all bound by confidentiality agreements and will all sign a non-disclosure agreement before each project. At LingoStar, we know how important it is that your documents remain confidential, and we take the proper precautions to ensure that you can feel confident in the fact that we will respect the content of your personal documents and information. Don't risk your brand perception, sales, or the safety of your customers. We can translate manuals or catalogs in both online and print copies to help customers understand and use your products and create an authentic, trusting perception to new audiences free of errors and cultural faux pas. Contact us today to discuss translating your manuals and catalogs for international markets.
GET A FREE QUOTE